Rescuing Sprite the Parakeet
Page 2,
Introducing Click
Since Click and Sprite seem to be trying to get as close to one another as possible in the separate cages we decided to take our chances and put them together. The chances were good that they would get along since Sprite seemed to be starving for companionship after being lost for who knows how long.
My dad first tried to gently catch Click with his hands but Click freaked out. He would have no part of it and we were afraid he was going to get hurt so my dad got a cup and trapped him in the corner until he slid into the cup. He carefully slid the cup out of the cage using the side of the cage to keep him in the cup. When he got to the opening of the cage he put something in front of the cup to keep Click in there.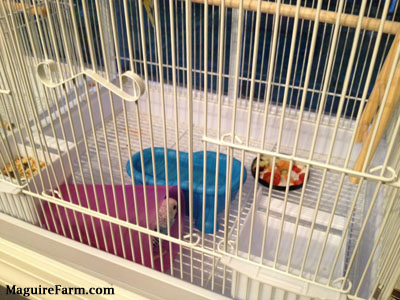 He then set the cup down on the bottom of the cage where Sprite was living and let Click come out of the cup when he was good and ready. During this process Sprite watched calmly. I think he was happy to see the new bird was moving in. Finally someone to chirp that.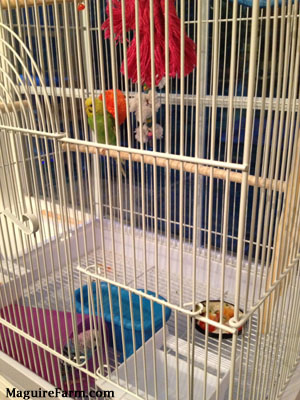 After about 15 minutes Click flew out of the cup and landed on the side of the cage. He stayed there for a long time not sure what to do next. Sprite calmly sat there watching his new friend.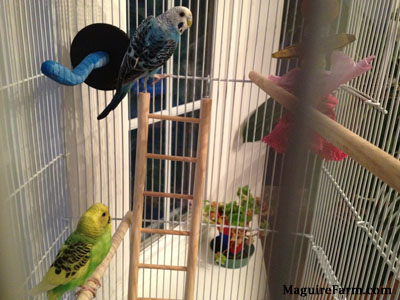 Poor little Click looked scared to death. We just sat there watching giving him time to adjust. Then something awesome happened. Sprite flew up to the perch next to Click and just sat there calmly. He even closed his eyes for a while looking like he was going to go to sleep. Sprite was welcoming the new bird to the cage. Click stayed on the side of the cage for a good 20 minutes before we decided to walk away and give them some alone time. When we came back a half hour later they were perched next to one another.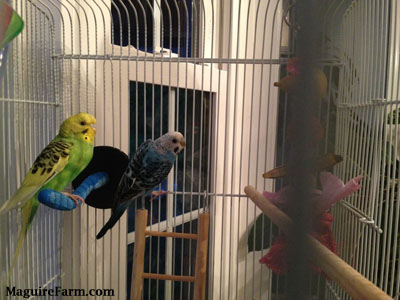 The next morning they were sitting with one another like old friends. From the time we found Sprite on the side of the road up until the time we brought Click home Sprite was quiet, and lonely. We had not heard him make any noises besides the protest of being caught. As soon as Sprite saw Click in the other cage however we heard him make some quiet noises. Now that they are together we hear some chirping going on.